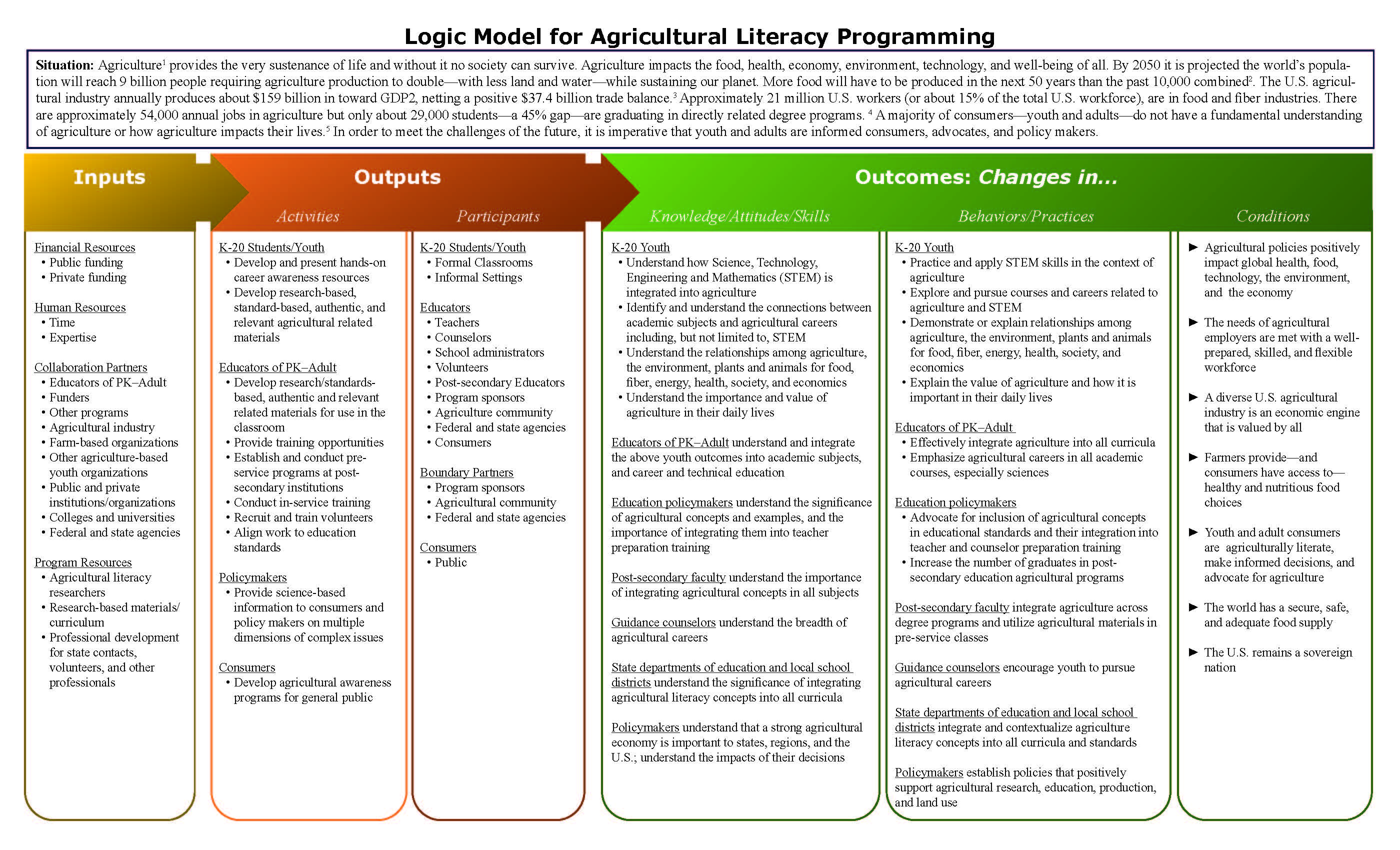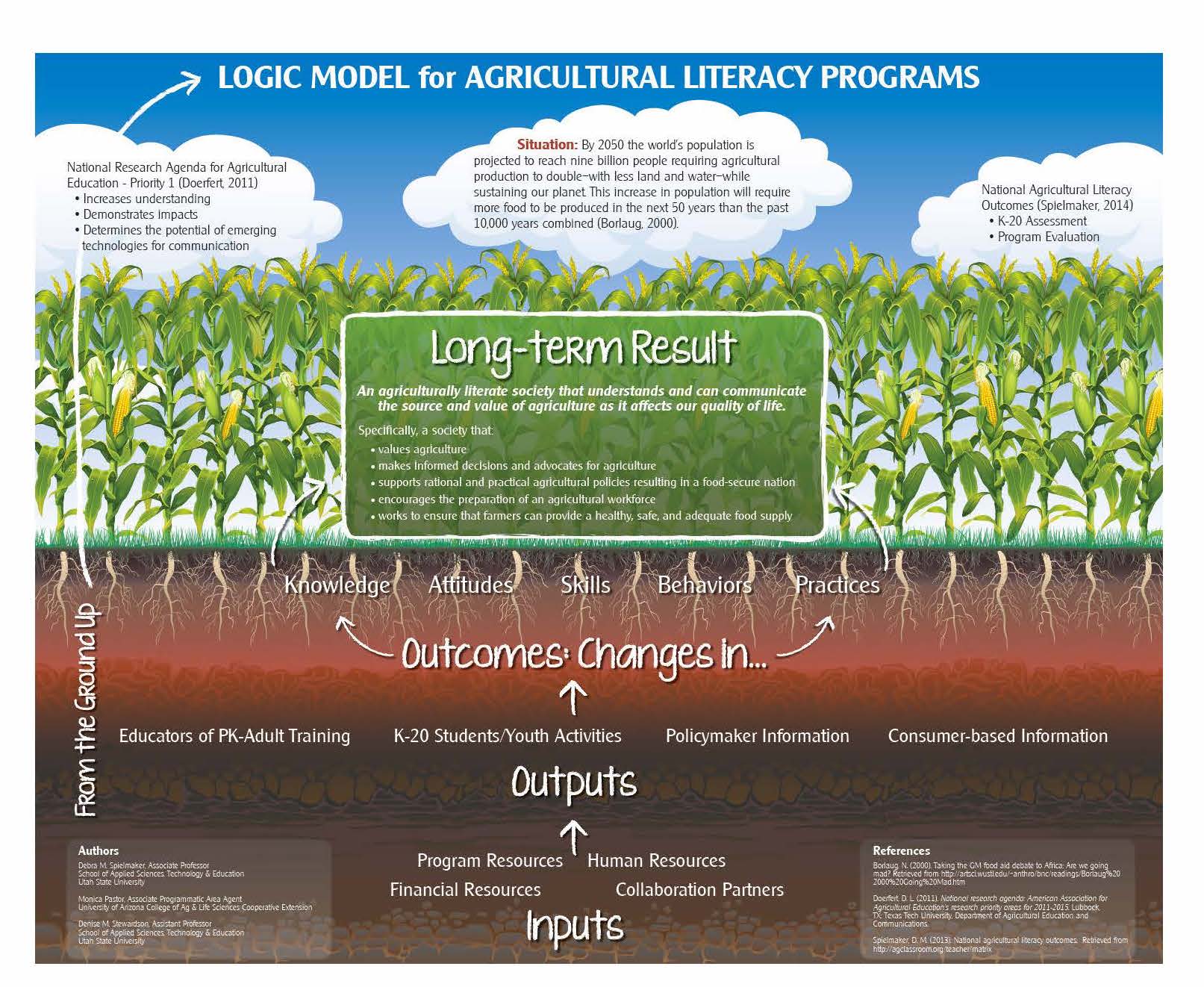 Assumptions
A majority of the U.S. population is not agriculturally literate6.

Opinions—not facts or evidence—sometimes drive decisions.

There is a decrease in graduates entering agricultural careers.

Paid staff are able to effectively train educators and implement the logic model.

Curriculum and resources are high-quality, rigorous, and linked to education standards.

All materials and activities are science-based and experiential.

Consumers have an increased interest in their food choices and availability.
External Factors
Teachers lack time to add to their prescribed curricula.

Information available to the public is not always scientifically based.

Human and financial resources differ across states and programs.

Public and private funds may or may not be adequate.

The general public is not informed and/or concerned about the looming food crisis.
USDA Conference on an Agricultural Literacy – Logic Model Development Committee
National Institute of Food and Agriculture, U. S. Department of Agriculture
Dr. Nancy Valentine, National Program Leader, 4-H and Agriculture in the Classroom
Cooperative Extension
Dr. Jill Walahoski, Associate Extension Educator, 4-H Youth Development, University of Nebraska-Lincoln
Agriculture in the Classroom
Ms. Deanna Karmazin, State Coordinator, Nebraska Agriculture in the Classroom
Ms. Diane S. Olson, Director of Promotion and Education, Missouri Farm Bureau Federation Ms. Monica Pastor, University of Arizona Cooperative Extension, Maricopa County
Dr. Debra Spielmaker, Associate Professor, Utah State University Extension; Applied Sciences, Technology & Education
U.S. Department of Education, Agricultural Education & FFA
Dr. Steve A. Brown, Educational Program Specialist, U.S. Department of Education and National FFA Advisor & Board Chair Mr. Jay Jackman, Executive Director, National Association of Agricultural Educators
Mr. Tony Small, Director, Partner Services, National FFA Organization
American Farm Bureau Foundation
Ms. Angela Mayfield, Education Director, American Farm Bureau Foundation for Agriculture
Agriculture is broadly defined to include agriculture, food, and natural resources. This would include all of the industries, processes, and resources involved in the production and delivery of food, fiber and fuel that humans need to survive and thrive.

Borlaug, N. (2000). Taking the GM food aid debate to Africa: Are we going mad? Retrieved from http://artsci.wustl.edu/~anthro/bnc/read- ings/Borlaug%202000%20Going%20Mad.htm

USDA Economic Research Service - Effects of Trade on the U.S. Economy. (2013). Retrieved November 4, 2013, from http://www.ers. usda.gov/data-products/agricultural-trade-multipliers/effects-of-trade-on-the-us-economy.aspx#.UnfdkBCQNWx

Goecker, A. D., Smith, P. G., Smith, E., & Goetz, R. (2010). Employment opportunities for college graduates in food, renewable energy, and the environment: United States, 2010-2015. Retrieved from http://www3.ag.purdue.edu/USDA/employment/Pages/default.aspx

Doerfert, D. L. (2011). National research agenda: American Association for Agricultural Education's research priority areas for 2011-2015. Lubbock, TX: Texas Tech University, Department of Agricultural Education and Communications.

Agricultural L source and value of agriculture as it affects our quality of life.
Organic Summary
The "organic" discussion is a lengthy one. So we've put together some notes for ya'll:
Here it goes...
Much of the produce labeled organic at the store or at the farmers market MAY still be treated with pesticides. The government allows farmers to treat the produce with low level (less dangerous or natural forms of) pesticides at 80%, while labeling it ORGANIC. Many of our farmers run very SMALL operations so they are only allowed to use these mild pesticides by law, therefore it could be considered "organic". However they are not allowed to sell it as organic unless they have an agriculture license stating that their produce is organic.

Organic licensing is VERY EXPENSIVE due to many soil and water tests that are required. For a small farmer, organic licensing is NOT cost effective. So while most of our farmers are not technically selling "organic" they are protecting their crops with the least invasive pesticides possible, because legally they cannot use the stronger chemicals. The strong chemicals can only be used in more industrialized farms. Also, small farm operations have a vested interest in preserving their soil because they are stuck on a fairly small plot of land to be used over and over again. (Unlike industrial farming operation)
So when shopping at the market keep in mind the smaller the farm operation the more likely you are to find nearly organic produce.                                                                                                 
Please keep in mind there are other benefits to shopping at the farmers market other than organic.
Our produce is picked at the PEAK OF FRESHNESS and hand harvested. This means the produce has more flavor and more nutrients in it.

Our produce is LOCALLY & REGIONALLY GROWN making it the GREENER CHOICE versus produce coming from South America, Europe or Asia traveling over 2,000 miles resulting in tons of unhealthy carbon emissions released into the atmosphere and billions of barrels of oil to get it here.

Lastly, FOOD SAFETY is becoming the most important issue. Recently cantaloupe from Colorado contaminated with bacteria killed 29 people and made hundreds more ill. Prior to that baby spinach contaminated with E.coli caused kidney failure in 31 people and killed 2 children. (from an industrialized farm) Our produce is straight from the farm and it's safe. It is not grown on an industrial farm (picked too early, mechanically harvested and sent to a DIRTY packing house. Safety is priority number one!
Hope this was helpful! Make sure to check out our Facebook Page for more articles and information about The #HDFarmersMarket.