Berry Mandarin Salad with Citrus Poppy Seed Vinaigrette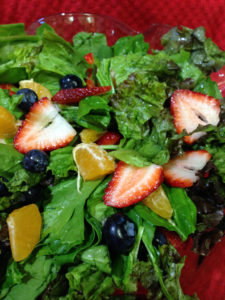 By Micki Brown
Serves 4
Salad Ingredients:
2 cups fresh spinach, torn
2 cups lettuce, torn
2-3 mandarins, peeled, sectioned
1 basket strawberries, sliced
1 basket blueberries
Desired amount of Vinaigrette (below)
Vinaigrette Ingredients:
1-2 tbsp raw honey
2 tbsp coconut vinegar or apple cider vinegar
½ cup extra virgin olive oil
1 tsp lemon zest
1 tsp mandarin zest
Juice of 1 lemon
Juice of 1 mandarin
1 tsp poppy seeds
Directions:
In a small bowl or mason jar, combine the ingredients for the vinaigrette, and whisk/shake well. In a large bowl, add the salad ingredients; toss together. Add desired amount of the vinaigrette mixture and toss/mix until the veggies are well-coated Enjoy!
Note: If you're planning to serve the salad later, you can prepare the vinaigrette separately and pour over the salad when you're ready to serve.