Cheesy Shrimp & Ahi Chowder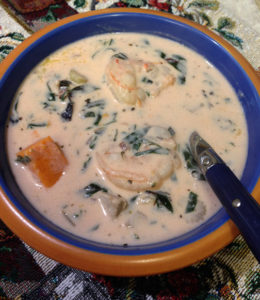 By Micki Brown
(Shrimp courtesy of our new vendor A Cast Away Seafood)
Serves 4
Ingredients:
½ pound raw shrimp, deveined, shells removed
½ ahi tuna, cut into bite-size chunks
2 celery stalks, diced
¼ cup onion, diced
¾ pound sweet potatoes, peeled, large dice
2 tbsp olive oil
1 cup chicken broth
1 cup whole milk
8 ounces cream cheese
2 tbsp dry white wine
1 tsp herbs de Provence
¼ tsp black pepper
½ tsp sea salt
½ bunch Swiss chard, large stem removed, chopped
1 tbsp grass-fed butter (optional)
1 tbsp corn starch (optional for thicker chowder)
Directions:
In a soup pot, heat olive oil over medium heat. Add onions and celery and sauté until the veggies are almost tender and barely beginning to brown. Add the sweet potatoes, broth, milk, cream cheese, wine, herbs de Provence, salt and pepper. Bring to a boil, then reduce heat and simmer, covered, until the sweet potatoes are tender. Add the shrimp, ahi, and Swiss chard and simmer for another 15 minutes. Add the butter if desired. Add the corn starch and cook a couple more minutes if a thicker chowder is desired. Serve and enjoy!