Fennel Salad with Balsamic Dressing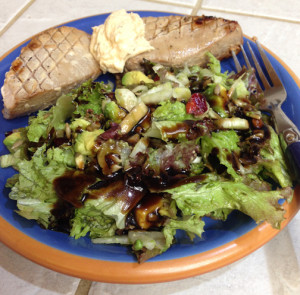 By Micki Brown
Serves 4
Salad Ingredients:
4 cups lettuce, torn or coarsely chopped
1 medium fennel "bulb", chopped
1 avocado, diced
½ cup dried cranberries
¼ to ½ cup sunflower kernels
Desired amount of Balsamic Dressing (below)
Dressing Ingredients:
½ cup extra virgin olive oil
½ cup aged Balsamic vinegar
1 tsp garlic powder
½ tsp sea salt
½ tsp black pepper
Directions:
Toss all salad ingredients together in a large bowl.
Place dressing ingredients together in a 1-pint mason jar. Put the lid on the jar and shake until ingredients are well mixed.
Place salad on serving plates and drizzle with desired amount of dressing. Serve and enjoy!