Heirloom Tomato & Zucchini Salad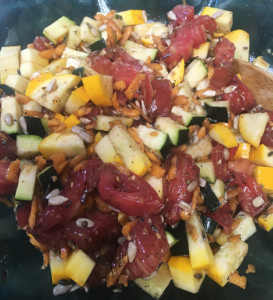 By Micki Brown
Serves 6
Salad Ingredients:
1 large heirloom tomato, diced
1 medium green zucchini, diced
1 medium golden zucchini, diced
1 large carrot, grated
¼ cup raw unsalted sunflower kernels
Dressing Ingredients:
¼ cup extra virgin olive oil
¼ cup aged balsamic vinegar
1 tsp dried minced garlic
1 tsp dried oregano leaves
1 tsp dried basil leaves
1 tsp dried lavender flowers (optional)
½ tsp sea salt
½ tsp black pepper
Directions:
In a small mason jar, combine dressing ingredients and shake with lid on.
In a large bowl, combine the salad ingredients, toss gently.
Add dressing to salad and toss until veggies are well-coated. Let marinate for 1-8 hours if desired.
Nutritional information per serving: Calories 118; Fat 6.6g; Carbohydrates 12.8g; Protein 3.1g; Vitamin A 24.1%; Vitamin C 27.8%; Calcium 3%; Iron 5.8%. Based on a 2,000 calorie diet. Nutritional information calculated via MyFitnessPal App.