Horizontally Layered Vegetable Casserole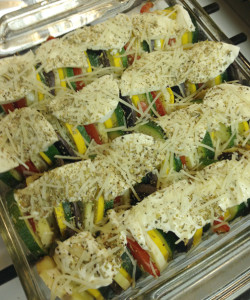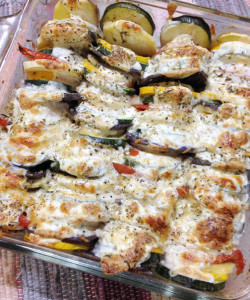 By Micki Brown
Serves 4
Ingredients:
1 small onion, finely chopped
2 cloves garlic, minced
1 tbsp extra virgin olive oil
1 medium zucchini, sliced
1 medium yellow squash, sliced
1 blue potato, thinly sliced
1 sweet potato, thinly sliced
1 tomato, halved, then sliced
2 tsp Italian seasoning
Sea salt and black pepper to taste
4 ounces mozzarella cheese, sliced
¼ cup parmesan cheese, grated
Directions:
Preheat oven to 425 degrees F.
Saute onions and garlic in olive oil until onions are tender.
Grease an 8" by 8" casserole dish and place the onions and garlic on the bottom.
Arrange the sliced vegetables in an alternating pattern horizontally … like dominos.
Sprinkle with seasonings.
Cover with foil and bake for 30 minutes.
Remove the foil, top with cheeses, then bake for another 15-20 minutes.
Serve and enjoy!