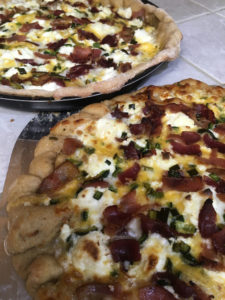 By Micki Brown
Makes 2 Pizzas (8 slices each)
Crust Ingredients:
1 ¾ cups warm water
2 cups all-purpose flour
1 ¾ cups white whole wheat flour
2 tsp active dry yeast
1 ½ tsp sea salt
Pizza Ingredients:
4 tbsp extra virgin olive oil, divided
4 tsp dried minced garlic, divided
8 ounces mozzarella cheese, shredded
4 ounces sharp cheddar cheese, shredded
8 ounces cream cheese
8 slices bacon, partially precooked, broken into bite-size pieces
2-3 large jalapenos, coarsely chopped
Crust Directions:
In a large bowl, add the yeast and water and stir until combined. Add the salt and flour and stir to incorporate ingredients. Loosely cover the bowl and let sit for 2-3 hours to rise. Preheat oven to 450 degrees. When done rising, divide the dough in half and place each in a greased pizza pan and stretch/shape to cover the pan. You can also use a well-floured pizza peel, then transfer to a preheated pizza stone.
Directions:
Place 2 tbsps of olive oil on each pizza crust. Next sprinkle on the garlic, followed by the mozzarella and cheddar. Next, crumble the cream cheese over the cheddar. Top with the bacon, then the jalapenos. Bake at 450 degrees for 12-15 minutes or until the crust is golden brown and cheese is melted. Slice and serve.
Nutritional information per slice: Calories 278; Fat 16.6g; Carbohydrates 21.2g; Protein 11.7g; Vitamin A 7%; Calcium 19.4%; Iron 4.6%. Based on a 2,000 calorie diet. Nutritional information calculated via MyFitnessPal App.