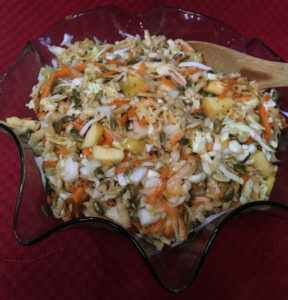 By Micki Brown
Serves 6
Ingredients:
2 cups green cabbage, chopped
2 cups jicama, grated
1 Fuji apple, diced
1 large carrot, grated
½ cup raw pumpkin seeds
¼ cup extra virgin olive oil
1 tbsp sesame oil
1 tbsp aminos or soy sauce
Juice of 1-2 limes or lemons
½ tsp ground ginger
½ tsp garlic powder
1 tsp poppy seeds
½ – 1 tsp sea salt
½ tsp black pepper
Directions:
In a large bowl, add the cabbage, jicama, carrot, apple, and pumpkin seeds and toss. In a pint-size mason jar combine the remaining ingredients. Pour the dressing over the vegetable mixture and toss until veggies are evenly coated with dressing. Serve and enjoy!
Nutritional information per serving: Calories 213; Fat 17.2g; Carbohydrates 13g; Protein 4.2g; Vitamin A 41%; Vitamin C 37.1%; Calcium 3.1%; Iron 3.2%. Based on a 2,000 calorie diet. Nutritional information calculated via MyFitnessPal App.