Kale Jicama Cucumber Salad with Balsamic Vinaigrette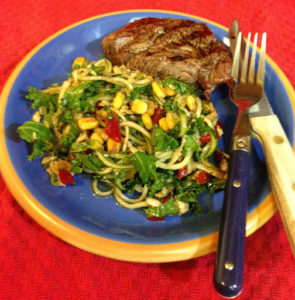 By Micki Brown
Serves 4
Salad Ingredients:
½ – ¾ pound jicama, peeled, grated
½ – ¾ pound cucumbers, cut into matchsticks or spiralized
1 medium red bell pepper, stem and seeds removed, chopped
1-2 cups chopped kale
2 green onions, sliced
Balsamic vinaigrette
Toasted corn (optional)
Vinaigrette Ingredients:
6 ounces extra virgin olive oil
1 ½ tbsp aged balsamic vinegar
1 tbsp pure maple syrup
1 tsp garlic, minced
½ tsp sea salt
¼ tsp black pepper
Directions:
In a pint-sized mason jar, combine the ingredients for the vinaigrette, and shake well. In a large bowl, add the jicama, cucumbers, red bell pepper, kale and green onions; toss together. Add the dressing mixture and toss/mix until the veggies are well-coated with dressing. Sprinkle with toasted corn. Enjoy!
Note: If you're planning to serve the salad later, you can prepare the vinaigrette separately and pour over the salad when you're ready to serve.