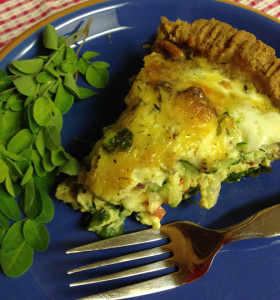 By Micki Brown
Serves 6-8
Ingredients:
6 free-range eggs
1 cup Monterey Jack cheese, grated
1 cup canned coconut milk
1 large bunch moringa, stems discarded
1 medium zucchini, grated, excess juice squeezed out
¼ medium onion, chopped
½ medium red bell pepper, chopped
½ pound uncured bacon (optional), cooked and broken into pieces
1 tbsp garlic, minced
1 tsp dried thyme
½ tsp sea salt
¼ tsp black pepper
Pie crust, unbaked
Directions:
Preheat oven to 350 degrees F.
Roll out crust and place into 9.5-inch pie pan
In a bowl, whisk together eggs, coconut milk, garlic, thyme, salt, and pepper.
Place ingredients into crust – moringa, red bell peppers, onions, zucchini, bacon, cheese, egg mixture.
Bake in oven for approximately 50 minutes.
Slice into 6-8 slices. Serve immediately.