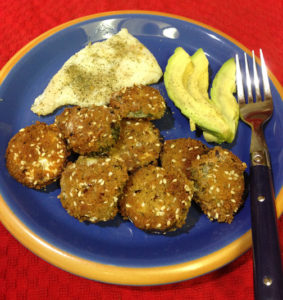 By Micki Brown
Serves 4
Ingredients:
12 Thai Eggplant, ends trimmed, cut into 3 slices each
1 cup Italian Bread Crumbs
2 tbsp sesame seeds
1 tsp red pepper flakes
1 tsp ground ginger
1 tsp paprika
1 tsp dried cilantro
1 tsp garlic powder
1 tsp sea salt
1 tsp black pepper
4 eggs
¾ cup coconut oil
2 tbsp toasted sesame oil
Soy sauce
Directions:
Heat oils in a large skillet over medium heat. In a bowl, mix together the bread crumbs, sesame seeds, and spices and mix well. In another bowl, add the eggs and whisk until well blended. Dunk the eggplant slices into the eggs, then into the bread crumb mixture. There should be a layer of bread crumbs sticking to all surfaces of the eggplant. Place the coated eggplant slices into the pan of hot oil in a single layer. This will probably have to be done in two batches. Pan-fry the eggplant until the bottom side is a deep golden brown, turn them over and continue cooking until both sides are deep golden brown. Turn the heat down if the oil begins to smoke. When the eggplant is done, place them on paper towels to drain. Drizzle with desired amount of soy sauce and serve.