Roasted Spiced Butternut Squash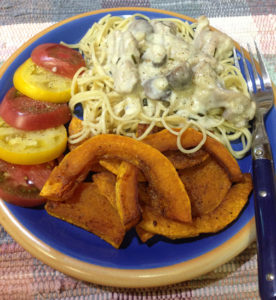 By Micki Brown
Serves 3-4
Ingredients:
1 large butternut squash, peeled, cut in half lengthwise, seeds discarded, cut into ¼ – ½ inch slices
¼ cup coconut oil
½ tsp ground ginger
½ tsp ground cinnamon
½ tsp garlic powder
½ tsp sea salt
¼ tsp black pepper
Directions:
Preheat oven to 400 degrees F.
Combine the coconut oil and spices. Place the squash slices in a single layer on a large rimmed baking dish. Baste the squash with the oil and spice mixture.
Place the squash in the oven and roast for 20-25 minutes' Remove them from the oven, flip each slice over, baste each slice again, and then place back in the oven for another 20-25 minutes.
Serve and enjoy!