Southwest Stuffed Zucchini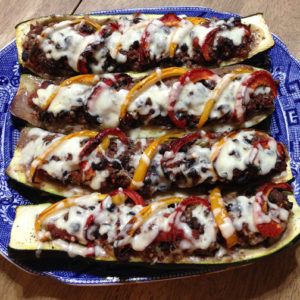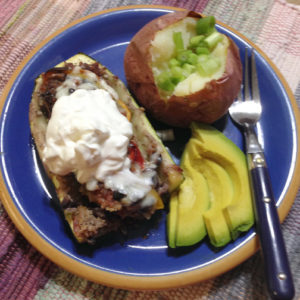 By Micki Brown
Serves 8
Ingredients:
1 lb grass-fed ground beef, raw
1 small red onion, finely chopped
1 large jalapeno, finely chopped
1 large heirloom tomato, coarsely chopped
1 can black beans, rinsed and drained
1 tsp dried oregano
1 tsp ground cumin
2 tsp garlic, minced
½ tsp sea salt
½ tsp black pepper
2 large zucchini, cut in half lengthwise and seeds scooped out
1 or 2 bell peppers (I used red and yellow), sliced
3 ounces Jack cheese, grated
Garnish with avocado slices and sour cream
Directions:
Preheat oven to 400 degrees F.
Mix together in a large bowl the ground beef, onion, jalapeno, tomato, beans, and spices.
Place meat mixture in the seed cavity of the zucchini halves, packing it in to make it fit, then top with bell pepper slices.
Place the stuffed zucchinis on a large, rimmed baking pan, then bake in oven for about 50 minutes.
Remove from oven and sprinkle with grated cheese, then place back in oven until cheese is melted.
Garnish with avocado slices and a dollop of sour cream.