Spinach Quinoa Salad with Lemon Dressing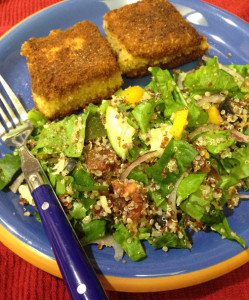 By Micki Brown
Serves 6-8
Salad Ingredients:
1 bunch fresh spinach, coarsely chopped
1 small red onion, thinly sliced
1 medium cucumber, quartered and sliced
1 yellow or red bell pepper, diced
1 green bell pepper, diced
1 large heirloom tomato, diced
3 cups cooked quinoa
1 small can sliced black olives
2 ounces grated or crumbled cheese (mozzarella, feta, parmesan), optional
Dressing (recipe below)
Dressing Ingredients:
½ cup extra virgin olive oil
Juice of 1 lemon
Zest of 1 lemon
2 tbsp red wine vinegar
3 cloves garlic, minced
1 tsp dried oregano
½ tsp sea salt
¼ tsp black pepper
Directions:
In a pint-sized mason jar, combine the ingredients for the dressing and shake well. Place all of the vegetables together in a large bowl and toss well. Add the dressing mixture and toss/mix until the veggies are well-coated with dressing and ingredients are evenly distributed. Enjoy!