Spinach Salad with Orange Balsamic Dressing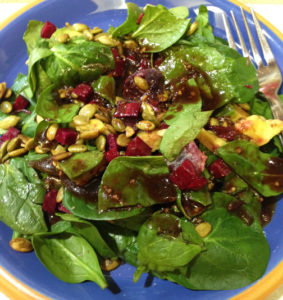 By Micki Brown
Serves 4-6
Salad Ingredients:
1 bunch spinach, coarsely chopped
2 medium beets, peeled, small dice
1 avocado, peel & pit removed, diced
2 blood oranges/oranges, peeled, cut into chunks
½ cup pumpkin seeds (roasted or raw)
Dressing Ingredients:
¼ cup extra virgin olive oil
¼ cup aged balsamic vinegar
Zest of 1 blood orange/orange
Juice of 1 blood orange/orange
1 tsp dried minced garlic
½ tsp sea salt
¼ tsp black pepper
Directions:
In a large bowl, combine the salad ingredients. Toss gently.
In a small mason jar, combine dressing ingredients and shake with lid on.
When ready to serve, add dressing to salad and toss until veggies are well-coated. ENJOY!