St. Patrick's Day Mashed Potato Pancakes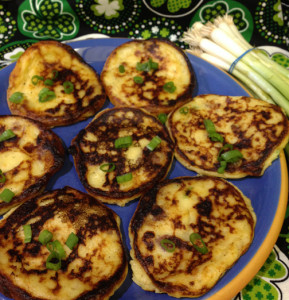 By Micki Brown
Make Approximately 18 3-Inch Pancakes
Ingredients:
2 pounds red potatoes, cut into eighths
6 tbsp grass-fed butter, softened
½ cup milk, warmed
1 tbsp minced garlic
1 tsp sea salt
½ tsp black pepper
2 eggs
½ cup all-purpose flour
4-5 green onions, sliced, divided
6 tbsp extra virgin olive oil
Optional sour cream, shredded cheese, apple sauce
Directions:
Place potatoes in large pot and add enough water to thoroughly cover them. Cover and bring to a boil. Reduce heat and simmer until potatoes are tender, but not mushy. Drain the water. Add the butter and milk. Mash with a potato masher or blend with a hand mixer, depending on amount of blending desired. Add the salt, pepper, garlic, flour and eggs. Stir until well blended. Stir in the white and light green parts of the green onions. Heat 2 tbsp olive oil in a large skillet over medium to med-high heat. Pour or scoop potato mixture to create 3-inch pancakes. Cook until they become a deep golden brown, then turn the over and brown the other side. The pancakes need to be made in batches to avoid over-crowding while they cook. Add more olive oil to the pan before each new batch. Garnish with the dark green portions of the green onions, and with any of the options if desired. Serve and enjoy! They are really good as leftovers the next day.