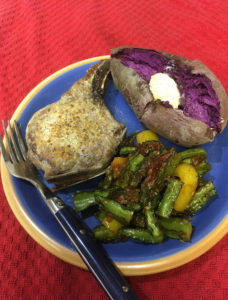 By Micki Brown
Serves 4
Ingredients:
½ pound wing beans, cut into bite-size pieces
½ large yellow bell pepper, cut into strips
1 large tomato, preferably heirloom, diced
1 tbsp coconut oil
2 tsp dried minced garlic
2 tsp sesame seeds
½ tsp red pepper flakes
1 tbsp sesame oil
1 tbsp aminos or soy sauce
¼ tsp black pepper
¼ tsp sea salt
Directions:
Heat the coconut oil in a large skillet or wok over medium to med-high heat. Add the minced garlic and sesame seeds and cook for about 30-45 seconds, stirring constantly. Add the wing beans, tomato, and bell pepper and stir fry until the wing beans become bright green and slightly tender (just a few minutes). Add the remaining ingredients and stir fry about 1 minute. Serve and enjoy!
Nutritional information per serving: Calories 94; Fat 7.2g; Carbohydrates 6.1g; Protein 2.2g; Vitamin A 28.8%; Vitamin C 112.9%; Calcium 45.9%; Iron 1.6%. Based on a 2,000 calorie diet. Nutritional information calculated via MyFitnessPal App.