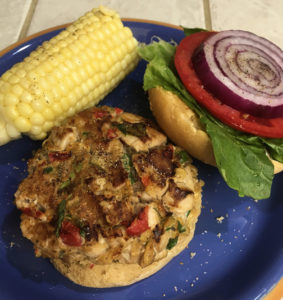 By Micki Brown
Serves 8
Ingredients:
1 ½ pounds fresh yellowtail filets (or other desired fish), finely diced
1 medium red bell pepper, coarsely chopped
3 medium scallions, chopped
1 ½ tbsp sesame oil
1 ½ tbsp soy sauce or aminos
¼ to ½ tsp red pepper flakes
2 large eggs
¾ cup Italian style panko bread crumbs
¼ tsp sea salt
¼ tsp black pepper
8 burger buns
Condiments of choice
Lettuce, tomato, onions, pickles, etc.
Directions:
In a large bowl, combine the first 10 ingredients. Form into 8 patties. Preheat non-stick skillet over medium heat. Place the patties in the skillet and cook 3-5 minutes per side. Serve on hamburger buns with desired toppings and condiments.
Nutritional information per patty only: Calories 210; Fat 8.6g; Carbohydrates 8.8g; Protein 23.3g; Vitamin A 11.7%; Vitamin C 33.1%; Calcium 3.4%; Iron 4.3%. Based on a 2,000 calorie diet. Nutritional information calculated via MyFitnessPal App.