Bacon Wrapped Lobster Tails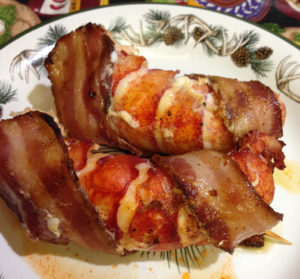 By Micki Brown
Serves 2
Ingredients:
2 raw lobster tails, no shells (3-4 ounces each); lobster tails in website photo courtesy of
A Cast Away Seafood
2 bacon slices (uncured, no nitrites or nitrates)
Directions:
Partially cook the bacon slices; let cool. Wrap a bacon slice around each lobster tail, holding the ends down with toothpicks. Lightly oil grill grate, then preheat grill to a medium heat. Place the lobster tails on heated grill. After 3-4 minutes turn the tails over and let cook another 3-4 minutes. Don't over-cook or the lobster will be rubbery. Serve and enjoy!