Italian Sausage & Cabbage Soup
By Micki Brown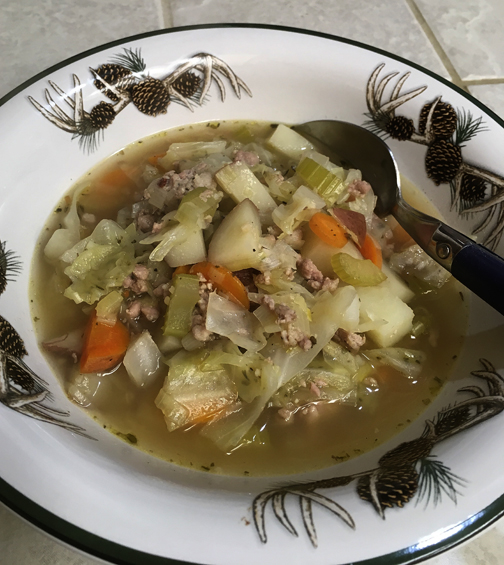 1 ½
lbs
green cabbage, coarsely chopped
3
medium red potatoes, diced
2
large leeks, white and pale green parts, sliced
1
tbsp
extra virgin olive oil
1
tbsp
dried minced garlic
8
cups
low sodium chicken broth
1
Heat the oil in a large pot over medium to med-high heat
2
Add the sausage and let it brown and crumble, stir frequently
3
While the sausage is cooking, add to it the garlic and leeks
4
Allow to cook for a couple of minutes, then add the potatoes, carrots, and celery. Continue cooking for about 5 minutes, stirring often
5
Add the chicken broth and the spices and bring to a soft boil
6
Add the cabbage and stir. Bring to a simmer and cook for about 30 minutes or until the carrots and potatoes are tender
7
Ladle into soup bowls and serve.
Ingredients
1 ½
lbs
green cabbage, coarsely chopped
3
medium red potatoes, diced
2
large leeks, white and pale green parts, sliced
1
tbsp
extra virgin olive oil
1
tbsp
dried minced garlic
8
cups
low sodium chicken broth
Directions
1
Heat the oil in a large pot over medium to med-high heat
2
Add the sausage and let it brown and crumble, stir frequently
3
While the sausage is cooking, add to it the garlic and leeks
4
Allow to cook for a couple of minutes, then add the potatoes, carrots, and celery. Continue cooking for about 5 minutes, stirring often
5
Add the chicken broth and the spices and bring to a soft boil
6
Add the cabbage and stir. Bring to a simmer and cook for about 30 minutes or until the carrots and potatoes are tender
7
Ladle into soup bowls and serve.